---

53,7 MB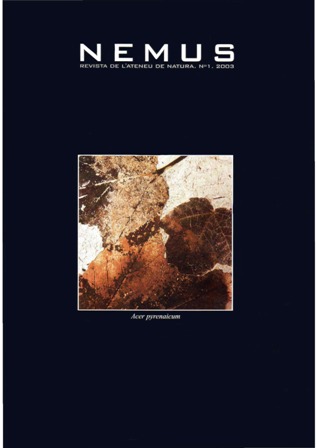 BARRÓN, Eduardo. l
Indicios de paleoincendios en el Terciario de la Península Ibérica p. 5-16

4,13 MB
ABSTRACT
The presence of fusain in coal deposits shows that forestal fires acted in ecosystems at the past. During the Tertiary in the Iberian Penninsula, forestal ecosystems underwent
fires. Pollen analysis made in the tertiary Rubielos de Mora and la Cerdaña basins seem corroborate the action of the fire .
Key words: forestal fires, fusain, Palynology, Tertiary, Iberian Peninsula, Spain.
RESUMEN
La existencia de incendios en el pasado se pone de manifiesto por la existencia de depósitos de carbón en los que parece el maceral denominado fusinita. Durante el Terciario en la Peninsula Iberica los ecosistemas forestales también sufrieron los embates del fuego, como parecen demostrarlo los porcentajes polínicos estudiados en las cuencas de Rubielos de Mora y la Cerdaña.
Palabras clave: incendios forestales, fusinita, Palinología, Terciario, Península lbérica, España.
FERRAN, A., BAEZA J., BAUTISTA S., CATURLA R.N. i LLOVET J.
La regeneració natural després dels incendis forestals a la Comunitat Valenciana p. 17-36

5,95 MB
ABSTRACT
Ecosystem regeneration after wildfire in the Valencia region. The response to wildfires ofrepresentative forest eco systems from the Valencia region is analysed in the present paper. The regenerative strategy ofthe species that dominate these eco systems is shown to be relevant, as are the physical and nutritional characteristics ofthe soils where they usually grow. The repercussions ofthe increasing fire recurrence in the loss of ecosystem regenerative capacity and complexity are discussed.
Key words: plant regeneration, soil, shrublands, pine woodlands, resprouting, seeding, fire recurrence.
RESUM
En el present article s 'analitza la resposta dels diferents ecosistemes forestals més freqüentment afectats per incendis a la Comunitat Valenciana. S'observa la relevància de l'estratègia regenerativa després del foc de les espècies que dominen aquestes formacions vegetals, així com les característiques fisiques i nutricionals dels diferents tipus de sòls on generalment es desenvolupen. Es discuteix la repercussió de l'increment de la recurrència d' incendis en la pèrdua de la capacitat regenerativa i de la complexitat dels ecosistemes analitzats.
Paraules clau: regeneració vegetal, sòl, brolles, pinedes, rebrot, germinació, recurrència d'incendis.
VILLALBA CURRÁS, María Paz.
Los equínidos regulares de la provincia de Castellón p. 37-92

17,8 MB
ABSTRACT
An study is accomplished over the Echinoids present in the Maestrazgo region in the Lower Cretaceous, focussing in the Castellón province; in that area, a great number of specimens from different taxonomic groups has been found among the numerous outcrops from that periodo 8etween them, the Echinoids specimen is highly abundant. 80th regular and irregular Echinoids appear . However, as usual , the number of irregular individuals is notoriously higher, as it can be observed in the Heteraster genus, and concretely in the Heteraster oblongus species which charactericed the Aptiense ofthis area.Due to the abundance of taxones which involves a great extension for this article, it has been splitted in two parts. The first one will manage the Geology ofthe area, the group generalities and the description ofthe regu lar Echinoids specimens, whilst the second one will be focussing on ly on the irregular Echinoids A taxon described with material obtained in More/la will be mentioned in each part.
Keywords: Echinoids, Lower Cretaceous, Aptian, Castellón, Spain.
RESUMEN
Se realiza el estudio de los Equínidos presentes en el Cretácico inferior del Maestrazgo, centrado en la provincia de Castellón; en ella son numerosos los afloramientos de este periodo en los que se ha encontrado gran número de ejemplares de distintos grupos taxonómicos. De entre ellos está muy abundantemente representado el de los Equínidos, tanto regulares como irregulares si bien, como suele ocurrir, el número de individuos es muy superior en el caso de los irregulares, lo que se manifiesta de [onna muy notable en el caso del género Heteraster y, en concreto de la especie Heteraster oblongus que caracteriza al Aptiense de esta zona. Dada la gran ábundancia de taxones presentes, lo que implica una gran extensión de este artícu lo, se dividirá en dos partes. La primera tratará la Geología de la zona, las generalidades del grupo y la descripción de las especies de Equínidos regulares, mientras que la segunda sólo tratará de los Equínidos irregulares.En cada parte se menciona un taxón descrito con material recogido en Morella.
Palabras clave: Equínidos, Cretácico inferior, Aptiense, Castellón, España.
VILLALBA CURRÁS, María Paz.
Los equínidos irregulares de la provincia de Castellón p. 93-156

31,2 MB
ABSTRACT
In the second part we will cover the irregular Echinoids or exocyclics. They are represented by a notorious number of specirnens, higher in each case to those found on the regular echinoíds specimens, for which, however, the taxons number is lower. The most numerous gender in th is group is the Heteras/er, of which we find several species; one ofthem has been described for the first time in my Doctoral Thesís (1991), based in material found in Morella.
Keywords: Echinoids, Lower Cretaceous, Aptian, Castellón, Spain.
RESUMEN
En esta segunda parte tratamos de los Equínidos irregulares o exocíclicos. Están representados por un número muy elevado de ejemplares, superior en cada caso a los hallados en las especies de equínidos regulares, siendo, en cambio, más reducido el número de taxones. El género representado por un mayor número de individuos, dentro de este grupo es Heteraster, del que encontramos varias especies; una de ellas ha sido descrita por primera vez en nuestra Tesis Doctoral (1.991) a partir de material recogido en Morella.
Palabras clave: Equínidos, Cretácico inferior, Aptiense, Castellón, España.